Rolling Bearing Research Center
Test rigs for experimental tests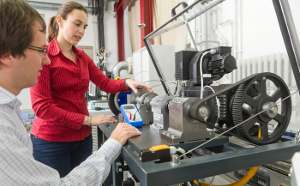 The KTmfk has been contributing to technical and scientific progress in rolling bearing technology for over 30 years. The research work is characterized by a close interlocking of design, calculation and testing. During this time, a number of special test rigs, unique in the research landscape, were developed, set up and tested for the experimental investigations of rolling bearings.
Rolling bearing vibration test rig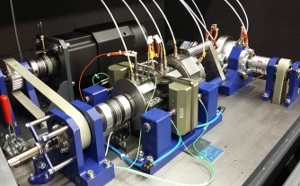 Radial rolling bearings with up to 6 000 rpm and 20 kN radial load are tested on this test rig. In addition, axial vibrations of the shaft with swivel ranges of up to 1 mm and swivel frequencies of up to 25 Hz can be generated. Furthermore, a superimposed load or speed vibration can be applied to the test bearing. The friction torque and axial friction in the test bearing are measured. The rolling element slip and the bearing temperatures on the inner and outer ring are also measured.
Rolling bearing test rig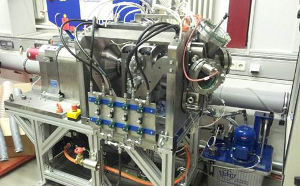 The main task of this test rig is to test the operating behavior of medium-sized rolling bearings under various, in part newly developed, lubrication processes and operating conditions. Speeds up to 4 500 rpm and loads up to 25 kN can be applied. Shaft and housing temperatures in the range of -20°C to +120°C can be achieved using heating and cooling elements.
Rolling bearing friction test rig
The friction and temperature behavior of rolling bearings at speed and load spectra can be investigated with this test rig. Various bearing sizes can be tested at speeds up to 12 000 rpm and radial loads up to 20 kN or axial loads up to 10 kN. The temperature and friction torque curves are recorded. The test rig can be used with grease-lubricated bearings or with an oil minimum quantity lubrication. It is also used for dry-lubricated, coated bearings.