Coating Center
Coating Center
Tribological PVD/PACVD coating systems are one way of meeting the constantly growing functional requirements placed on machine elements, tools and motor elements. The KTmfk has its own coating center for application-related, practical coating development.
A PVD/PACVD coating system is a central component of the coating center. In addition, the center includes equipment for cleaning, preparing and preserving samples and components to be coated.
PVD-/PACVD-Coating Center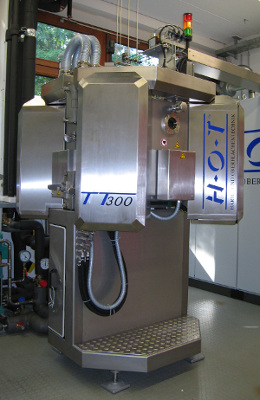 For coating development and component coating, the KTmfk has a combined PVD/PACVD coating system type TT 300 K4 of the coating service provider H-O-T HÄRTE- UND OBERFLÄCHENTECHNIK. With an interior volume of the recipient scaled for research purposes of approx. 300 l, the system offers both automated process control typical for the industry and the best possible transferability to series processes. Coating in fine and high vacuum is possible by (reactive) cathode sputtering (PVD), (reactive) arc evaporation (PVD-Arc) or plasma-activated chemical vapor deposition (PACVD). The coating system is equipped with four PVD coating sources (two controlled arc rectangular cathodes and two continuous or MF pulsed sputter rectangular cathodes according to the magnetron principle). Using a liquid evaporator, liquid media can be converted to the gaseous state and its components can be added to inert and reactive gases in the coating process. The charging rack arranged in the middle of the recipient allows triple rotation and thus an even coating of the components.
Mass spectrometer
In order to be able to monitor the coating process (with regard to the quantitative composition of the process gas atmosphere) more precisely, the coating center is equipped with a connected PFEIFFER QMG 220 M2 mass spectrometer. In addition to process and residual gas analysis, the mass spectrometer enables the determination of the leakage rate of the evacuated recipient.